Attention A T users. To access the menus on this page please perform the following steps. 1. Please switch auto forms mode to off. 2. Hit enter to expand a main menu option (Health, Benefits, etc). 3. To enter and activate the submenu links, hit the down arrow. You will now be able to tab or arrow up or down through the submenu options to access/activate the submenu links.

National Cemetery Administration
VLM FAQ & Customer Support
---
1. What is the Veterans Legacy Memorial (VLM)?
The Veterans Legacy Memorial (VLM) is an online memorial space managed by the National Cemetery Administration (NCA) of the U.S. Department of Veterans Affairs (VA). NCA manages 155 national cemeteries as shrine spaces to honor our Nation's Veterans and provides grants to 121 state, territory and tribal Veteran cemeteries. VLM extends the memorialization of more than 4.8 million Veterans interred in these cemeteries, in addition to Veterans from 27 DoD-managed and 2 National Park Service cemeteries to a digitally accessible environment, by providing a memorial page for each Veteran.
2. Which Veterans are in VLM? Where is my Veteran?
Currently, VLM offers a digital memorial space for Veterans memorialized in VA National Cemeteries; most VA grant-funded state, territory and tribal Veterans cemeteries; twenty-seven DoD-managed cemeteries (including Arlington National Cemetery); and two U.S. Park Service National Cemeteries.
If you are looking for a servicemember interred in a cemetery managed by the American Battle Monuments Commission, please visit https://www.abmc.gov. To find information about the final resting place of Veterans interred in Veteran cemeteries managed by the National Park Service, state or territory governments, or tribal governments, please visit https://gravelocator.cem.va.gov.
3. What about the Spouse of a Veteran or other family member who is buried in an NCA cemetery?
VLM only contains profile pages for Veterans, although headstone and marker images and user-submitted content displayed on their pages may include spouse or family member information.
4. How do I find my Veteran?
In the basic search, please type in your Veteran's last name. At least three letters must be entered for a last name and partial spelling will yield search results in groups of fifty with a view more button available.
To narrow your search you can choose to use other search or drop-down fields of your choice. Additional search fields can narrow your search. You can enter the Veteran's first name or if known a Year of Death. Drop-down menus can also be used to search by Service Branch, State/Territory or Cemetery.
If you have more specific information about your Veteran, please try the Advanced Search function. Type in your Veteran's last name. At least three letters must be entered for a last name
Using the Advance Search:
Click on "filter" and then
Click, "+ Add Filter"
Choose your filters
Click, "Apply Filter"
Advance search provides additional options not found in the basic search for adding a first name, middle name, date of birth range, a date of death range, decorations, rank, etc.
You can use VLM as a "Member" by logging in with (or creating) a secure ID.me account using the Login button at the top right corner of the VLM menu bar. As a Member, you can submit content to VLM pages without entering your name and email address each time. You can use VLM as a "Visitor" without logging in, but each time you submit content, you'll be required to enter your name and email address. If you click "remember me" after entering your name and email address, VLM will keep your name and email address active for 30 minutes. Then you will have to add your name and email address and verify you are a person by using a captcha. As a Visitor, you also cannot "like" other user's Tributes.
For more information on how to use VLM as a Member or Visitor, please use the VLM User Guide.
6. What should I do if the information that comes up in a search is incomplete or inaccurate?
Unfortunately, there may be a mistake in a Veteran's profile. For historic Veterans, this can be due to manual entry from old records; for Veterans of other periods, this can be due to an error in a form submitted to NCA. Whatever the reason, we want to make it right, and we may need your help.
For some historic Veterans, the profile may be incomplete. Each Veteran's profile reflects what we do know about the Veteran. For example, it is not uncommon for a Civil War soldier's profile to have only a last name and year of death. Times were different, and that may have been all that was known.
Not all VLM profile pages feature headstone/marker photos or maps at this time. NCA is still gathering this data from cemeteries for previous interments, and new interment photos and maps will populate only after the headstone/marker is in place.
If you believe that you have found an error, please click here for VLM Customer Support. Each case is different, but NCA team members will work to correct the Veteran's record if needed. Errors are rare, but our goal is to have none.
7. How can my school / organization / military unit / non-profit / company etc. contribute to this project?
NCA's Veterans Legacy Program (VLP) works with schools, universities, non-profit groups, and any organization who wants to share our mission to tell Veterans' stories. Please visit the VLP pages or email Veterans Legacy Program. We are always looking for new partners.
8. Where does the Veteran's information come from? How is it being stored? Who has access to it?
All Veteran information displayed on VLM comes from NCA's publicly available records. What you see in a Veteran's profile is the same information on that Veteran's headstone (name, year of birth, year of passing, branch of service, rank, and decorations). VLM is, in many ways, a digital national cemetery.
VLM is a site designed by VA's National Cemetery Administration with high security standards; and is stored in a secure, VA-controlled environment.
NCA has taken every safeguard to prevent any commercial use of Veteran data, and commercial activity on VLM is prohibited. VLM is for the Veteran community and for those who want to join us in memorializing America's Veterans.
9. How can I learn about burial and memorial benefits provided by VA and NCA?
return to top

VLM Featured Veteran
Juan M. Solorio
U.S. Army, SSG
Killed in Action
Purple Heart Recipient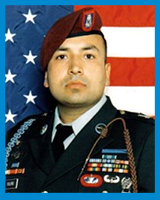 Memorial Page »
Connect with NCA





National Cemetery Administration
Attn: General Inquiries
810 Vermont Avenue
Washington, DC 20420

MyVA411 main information line:
800-698-2411