Attention A T users. To access the menus on this page please perform the following steps. 1. Please switch auto forms mode to off. 2. Hit enter to expand a main menu option (Health, Benefits, etc). 3. To enter and activate the submenu links, hit the down arrow. You will now be able to tab or arrow up or down through the submenu options to access/activate the submenu links.

National Cemetery Administration
Headstone and Marker Inscriptions
Inscription Items
Mandatory Items
Information for mandatory items must be in English about the decedent (provided by an authorized applicant). Such mandatory items are:
Legal Name, Branch of Service, Year of Birth, Year of Death, and for State Veterans and National Cemeteries only, the section and grave number.
Branches of Service include: U.S. Army (USA), U.S. Navy (USN), U.S. Air Force (USAF), U.S. Marine Corps (USMC), U.S. Coast Guard (USCG), U.S. Space Force (USSF), U.S. Army Air Forces (USAAF), Women's Army Auxiliary Corps (WAAC), U.S. Public Health Service (USPHS), National Oceanic & Atmospheric Administration (NOAA), Women's Air Force Service Pilots (WASP), and other organizations authorized for certain periods of time. More than one branch of service is permitted, subject to space availability.
VA will inscribe the phrase "IN MEMORY OF" on all memorial headstones and markers, as required under 38 CFR 38.630(c).
Optional Items
Information for optional items must be in English about the decedent (provided by an authorized applicant). Such optional items are:
War service includes active duty service during a recognized period of war and the individual does not have to serve in the actual place of war, e.g., Korea may be inscribed if the Veteran served during the Korean War period, even though the individual never served in the country. VA will inscribe authorized country names (e.g., Afghanistan, Iraq, etc.) as the war service only if the individual served in country.
The applicant must submit supporting documentation to VA to have the highest rank and/or awards inscribed on the headstone or marker.
Additional Items
Information for additional items must be in English or non-English text about the decedent (provided by an authorized applicant), consisting only of characters of the Latin alphabet and/or numbers. Examples of additional items include:
Appropriate terms of endearment, nicknames (in expressions such as "OUR BELOVED POPPY"), military or civilian credentials or accomplishments such as DOCTOR, REVEREND, etc., and special unit designations such as WOMEN'S ARMY CORPS, ARMY AIR CORPS, ARMY NURSE CORPS or SEABEES. The applicant must request an additional inscription item in block 18 on the form, and each request is subject to VA approval.
VA will not inscribe graphics, emblems or pictures. VA will inscribe authorized emblems of belief, the Medal of Honor, and the Southern Cross of Honor for Civil War Confederates.
---
Inscription Abbreviations
The following lists provide the most commonly inscribed abbreviations placed on Government-furnished headstones and markers:
Ranks
Awards, Branches, Specialties, and War Service
---
Lithichrome Inscriptions
NCA began using lithichrome for inscriptions on headstones in national cemeteries in the 1970s with the intention of enhancing the inscriptions on Government-furnished headstones. Lithichrome, a darkened shading seen in the image below, is used for the inscription on headstones at private cemeteries.
VA decided in 2009 to halt the use of lithichrome for marble upright headstones and niche covers at our national cemeteries. Complaints from visitors to our national cemeteries revealed that lithichrome inscriptions faded in the elements and the varying degrees of lithichrome shading among headstones in close proximity created an inconsistent appearance in the burial sections of national cemeteries.
Based on this experience, and after careful consideration, NCA instituted this lithichrome policy to enhance the uniformity and overall appearance of VA national cemeteries in perpetuity.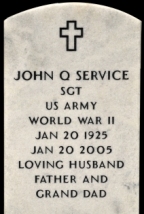 Upright Marble Headstone with Lithichrome Inscription
Private cemetery Goverment-furnished headstones are typically not found side by side across an entire location and avoids the perception of any inconsistent appearance as they are not in close proximity.
Many national cemeteries do not use lithichrome inscription. In lieu of lithichrome, NCA began making deeper inscriptions on headstones to enhance readability. The increased depth of inscription provides greater distinction of characters while eliminating the lack of visual uniformity associated with lithichrome applications. In most instances, the headstone or marker provided WILL NOT have lithichrome.
NCA adopted this policy for new national cemeteries and new burial sections in existing cemeteries.
return to top

Headstones, Markers, and Medallions
Connect with NCA





National Cemetery Administration
Attn: General Inquiries
810 Vermont Avenue
Washington, DC 20420

MyVA411 main information line:
800-698-2411