Attention A T users. To access the menus on this page please perform the following steps. 1. Please switch auto forms mode to off. 2. Hit enter to expand a main menu option (Health, Benefits, etc). 3. To enter and activate the submenu links, hit the down arrow. You will now be able to tab or arrow up or down through the submenu options to access/activate the submenu links.

National Cemetery Administration
Abraham Lincoln National Cemetery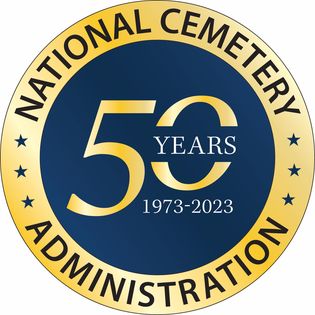 NCA marks 50 years (1973-2023) of serving America's Veterans, Service Members, and Families.

Learn more and watch NCA's 50th Anniversary Ceremony.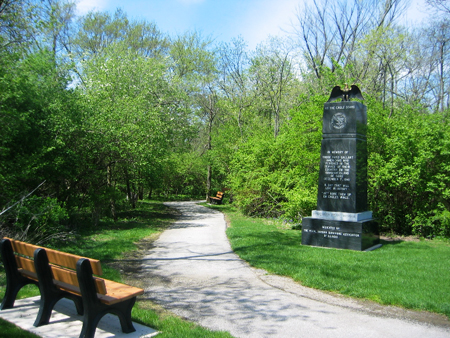 Visitation Hours: Open daily during daylight hours.
Office Hours: Monday thru Friday 8:00 a.m. to 4:30 p.m. Closed federal holidays, excluding Memorial Day.
This cemetery has space available to accommodate casketed and cremated remains.
Burial in a national cemetery is open to all members of the armed forces who have met a minimum active duty service requirement and were discharged under conditions other than dishonorable.
A Veteran's spouse, widow or widower, minor dependent children, and under certain conditions, unmarried adult children with disabilities may also be eligible for burial. Eligible spouses and children may be buried even if they predecease the Veteran.
Members of the reserve components of the armed forces who die while on active duty or who die while on training duty, or were eligible for retired pay, may also be eligible for burial.
Abraham Lincoln National Cemetery is located approximately 50 miles south of Chicago in Elwood, Ill. From Chicago O'Hare Airport, take Interstate 294 East to Interstate-55 South, exit #244 Arsenal Road. Turn right (east) and travel approximately eight miles. Turn right at Route 53 (south) and proceed two miles. Turn right on Hoff Road.
Fax all discharge documentation to the National Cemetery Scheduling Office at 1-866-900-6417 and follow-up with a phone call to 1-800-535-1117.
For information on scheduled burials in our national cemeteries, please go to the Daily Burial Schedule.
On Oct. 3, 1999, Abraham Lincoln National Cemetery was dedicated as the 117th national cemetery within the Department of Veterans Affairs National Cemetery Administration.
When fully developed, this 982-acre cemetery will provide 400,000 burial spaces.
Military Funeral Honors
On Aug. 26, 2003 the Abraham Lincoln National Cemetery inaugurated an all-volunteer Memorial Squad to assist in military honors. When possible, the melodic sound of live Taps can be heard echoing throughout the serene cemetery grounds, otherwise, electronic Taps are available at three committal shelters. The DOD program, "Honoring Those Who Served," calls for funeral directors to request military funeral honors on behalf of the veteran's family. When requested, a detail consisting of at least two uniformed military persons, with at least one being a member of the veteran's branch of service provide folding and presentation of the U.S. flag and can also play Taps, either by a high-quality recording or a bugler.
For educational materials and additional information on this cemetery, please visit the Education section, located below.
Cemetery policies are conspicuously posted and readily visible to the public.
Three floral arrangements accompanying the casket or urn at the time of burial will be placed on the completed grave.
Fresh cut flowers may be placed on graves at any time of the year. They will be removed when they become unsightly or when it becomes necessary to facilitate cemetery operations such as mowing.
Artificial flowers will be permitted on graves during the period of Oct. 1 through April 1, and will be removed as soon as they become unsightly.
Holiday wreaths or blankets are permitted on graves during the holiday season beginning December 1st. All Holiday decorations will be removed on Martin Luther King Day.
Permanent plantings, statues, vigil lights, breakable objects and similar items are not permitted on the graves. The Department of Veterans Affairs does not permit adornments that are considered offensive, inconsistent with the dignity of the cemetery or considered hazardous to cemetery personnel. For example, items incorporating beads or wires may become entangled in mowers or other equipment and cause injury.
No items such as stickers or balloons may be attached to a headstone or marker at any time.
Permanent items removed from graves will be placed in an inconspicuous holding area for 30 days prior to disposal. If not retrieved by donor, they are then governed by the rules for disposal of federal property.
Please exercise caution if placing personal, sentimental or valuable items on gravesites. Abraham Lincoln National Cemetery is not responsible for any items placed on gravesites and cannot replace or reimburse items that have been damaged, lost or stolen. All items placed on gravesites become the property of the United States Government.
VA regulations 38 CFR 1.218 prohibit the carrying of firearms (either openly or concealed), explosives or other dangerous or deadly weapons while on VA property, except for official purposes, such as military funeral honors.
Possession of firearms on any property under the charge and control of VA is prohibited. Offenders may be subject to a fine, removal from the premises, or arrest.
The Abraham Lincoln National Cemetery lies in the northwestern area of the former Joliet Army Ammunition Plant, approximately 50 miles south of Chicago. Abraham Lincoln National Cemetery is named after the 16th President of the United States and founder of the National Cemeteries. In the midst of the Civil War, on July 17, 1862 President Lincoln's signature enacted the law authorizing the establishment of national cemeteries "... for the soldiers who die in the service of the country." During the Civil War there were 14 national cemeteries opened pursuant of this legislation. President Lincoln's legacy is especially important to the people of Illinois, where he worked and lived. Lincoln is remembered for his successful law practice and elected service as a resident of Illinois. He served as an Illinois State Assemblyman and an Illinois Representative during the 13th Congress, prior to his election as 16th President of the United States. He is buried in the Oak Ridge Cemetery near the State Capital in Springfield, Illinois, where many additional sites of historical interest are located.
Congressman George E. Sangmeister, a veteran of the Korean War, served as a representative and senator in the state of Illinois, 1973-87, and a U.S. Representative from Illinois, 1988-95. He was instrumental in the acquisition of 982 acres from the former Joliet Arsenal and its redevelopment as Abraham Lincoln National Cemetery.
Monument and Memorials
Abraham Lincoln National Cemetery has a memorial walk that commemorates service members of 20th century wars on 15 memorials.
An 18-foot granite obelisk crowned by a bronze eagle with outstretched wings commemorates the 2,403 Americans who died in the surprise attack on Pearl Harbor on Dec. 7, 1941. It was donated by the Pearl Harbor Survivors Association and dedicated May 12, 2001.
An life size bronze statue of Abraham Lincoln commemorates and Honors President Abraham Lincoln who was the founding President of the National Cemetery system and who the cemetery is named after. The statue was dedicated on 9/11/2016, by the Abraham Lincoln National Cemetery Support Committee.
The Blue Star Memorial Marker was donated by the District VIII Garden Club of Illinois and dedicated on September 15, 2000. The marker is a tribute to American men and women who have served, are serving, or will serve their country. The symbolism dates to World War II when families of servicemen and women displayed a square flag decorated with a blue star in their windows to signify that a loved one was in the armed forces.
Medal of Honor Recipients
The Medal of Honor is the highest award for valor in action against an enemy force that can be bestowed upon an individual serving in the Armed Services of the United States. Recipients receive the Medal of Honor from the president on behalf of Congress. It was first awarded during the Civil War and eligibility criteria for the Medal of Honor have changed over time.
Recipients buried or memorialized here:
First Sergeant George Theodore Hyatt (Civil War). He received the Medal of Honor while serving in the U.S. Army, Company D, 127th Illinois Infantry, for actions at Vicksburg, Mississippi, May 22, 1863. Hyatt died in 1900 and is buried in Section 1, Site 1613.
Other Burials
Born in Brooklyn, NY, John William Bach was a World War II veteran and basketball player, coach, and mentor. Born in 1924, he attended St. John's Prep and began his basketball career there, winning two Catholic city championships, before serving in the U.S. Navy, 1943-1947. After his tour, Bach returned to school and the basketball court. He graduated from Fordham University and was named most valuable player in 1947-1948. He went on to coach Fordham's basketball team for eighteen seasons and was inducted into the school's Hall of Fame in 1974. Bach led Penn State's team for ten years before he joined the coaching staffs of the Golden State Warriors and Chicago Bulls. He was behind the Bulls' defense that helped secure three consecutive National Basketball Association championship titles. Bach died January 18, 2016, and is buried in Abraham Lincoln National Cemetery (Section 16, Site 326).
John Edward Carter was born in 1934 and grew up on Chicago's South Side where he and fellow members of a Bronzeville church choir formed the Swallows in 1952. The group became the Flamingoes and quickly became known for their intricate harmonies, with Carter as a tenor. The all-black, all-male vocalists were part of the emerging doo-wop sound and their "Golden Teardrops" was a signature song. The Flamingoes signed with Chicago's Chess Records in 1955. Carter was drafted into the U.S. Army as cook, 1956-1958, stationed in Germany. While Carter was serving overseas the band replaced him, but in 1960 he joined another Chicago group, the Dells. Carter's vocals remain profoundly influential and he is a two-time Rock and Roll Hall of Fame inductee for the Flamingoes (2001) and Dells (2004). Carter died August 21, 2009, and is buried in Abraham Lincoln National Cemetery (Section 8, Site 46).
Michael Galajdik was born in 1916 and was raised with the help of a sister. He worked with the Civilian Conservation Corps from 1935 until 1940, when he joined the U.S. Navy. Fireman First Class Galajdik was on board the USS Oklahoma during the Japanese attack on Pearl Harbor, December 7, 1941. Galajdik received the Purple Heart posthumously and was buried as an unknown in the National Memorial Cemetery of the Pacific, HI. He is one of many USS Oklahoma dead being identified by the U.S. Army using DNA technologies and dental records. Galadjik's remains were reinterred in Abraham Lincoln National Cemetery on April 22, 2017 (Section 10, Site 402).
John H. Geiger was born in 1925 and spent childhood in Iowa where his father, a veteran of World War I, directed Civilian Conservation Corps projects during the Great Depression. Geiger served in the U.S. Army during World War II. In 1945, while still in the military, the Army Technician 5 joined The American Legion. By 1960 Geiger led Illinois' Legion department, and in the early 1970s he took command of the national organization. After his term, he remained active in the organization's leadership, championing the G.I. Bill for Vietnam veterans and influencing policy. After World War II Geiger attended school on the G.I. Bill, graduating from the University of Illinois and, in 1966, becoming a structural engineer for United Airlines. Geiger oversaw construction of United's Terminal One at O'Hare Airport as well as terminals in other cities. Geiger died January 10, 2011, and is buried in Abraham Lincoln National Cemetery (Section 9A, Site 708).
Illinois native Iceal "Gene" Hambleton was born in 1918 and served in the U.S. Air Force in World War II as a radio operator, 1943-1945. Lieutenant Colonel Hambleton did not see combat in that tour, but he did as a navigator in Korea and Vietnam. He commanded the 571st Strategic Missile Squadron based in Tucson, AZ, and on April 2, 1972 -- his sixty-third mission in Vietnam -- was shot down. Hambleton was the only crew member able to eject and he survived behind enemy lines for eleven days. His rescue was the longest and most complex of the war, immortalized in print and film as Bat 21, his aircraft call sign. Hambleton received the Silver Star, Distinguished Flying Cross, the Air Medal, Meritorious Service Medal, and Purple Heart. He died September 19, 2004, and is buried at Abraham Lincoln National Cemetery (Section C2-34, Row C, Site 8).
Born in Illinois, Sator Sanchez, worked in the Civilian Conservation Corps before enlisting in the U.S. Army in 1939. He transferred to the Army Air Forces in 1941 and during World War II, gunner Sanchez completed 44 combat missions before returning stateside as an instructor. Technical Sergeant Sanchez volunteered for another tour and flew 22 missions with the 15th Air Force. On March 15, 1945, when Sanchez's aircraft was damaged over Germany, he ejected but his body was never recovered. In 1993, the tail of his downed B-17 was donated to the National Museum of U.S. Air Force. Sanchez is honored many ways. He earned a Silver Star and Distinguished Flying Cross, and is the only enlisted man for whom a B-17 aircraft was named, "Smilin' Sandy Sanchez." His hometown of Joliet named an elementary school and park for him. Sanchez is memorialized in Abraham Lincoln National Cemetery (Section M1, Site 36).
George Sangmeister (1931-2007) was born in Frankfort, IL, and throughout his career Will County served as his legal and political base. His education was interrupted by the Korean Conflict and Sergeant Sangmeister served in the U.S. Army from 1951-1953. As a civilian he returned to school – Elmhurst College and John Marshall Law School in Chicago -- and worked as a lawyer, magistrate, justice of the peace, and state attorney. Sangmeister entered politics in the Illinois state government. He missed a bid for lieutenant governor in 1986 alongside Adlai Stevenson, but shortly thereafter Sangmeister was elected as a U.S. Representative as a Democrat (1989-1995). He was instrumental to the redevelopment of the Joliet Arsenal, designation of a tallgrass prairie, and establishment of Abraham Lincoln National Cemetery. Sangmeister died October 7; he and his wife, Doris, are buried at the national cemetery (Section 1, Site 2).
Augustus Alexander "Gus" Savage (1925-2015) was a pioneer African-American journalist, civil rights advocate, and Democrat in the U.S. Representatives. Born in Detroit, MI, he grew up and lived in Chicago. A 1943-1946 tour in the segregated U.S. Army Air Forces during World War II developed Technician 5 Savage's commitment to racial equality. He graduated from Roosevelt University in 1951 and attended the Chicago-Kent School of Law. Savage campaigned for civil rights as a publisher, editor, and writer with American Negro magazine and Citizen Community newspapers, as part of the League of Negro Voters, and as an elected congressman (1981-1993). He died October 31 and is buried in Abraham Lincoln National Cemetery (Section 16, Site 34).
Richard Francis Whitehead was born in Massachusetts in 1894 and enlisted in the U.S. Navy in 1912. Vice Admiral Whitehead served until 1956 with extensive duty at home and abroad. He received the Distinguished Flying Cross for service between the world wars and the Distinguished Service Medal for combat during World War II for his command of air support units in Iwo Jima and Okinawa. Whitehead's legacy includes oversight of the conversion of two merchant ships into makeshift aircraft carriers – USS Wolverine and USS Sable – in Lake Michigan. An estimated 25,000 naval aviators were trained using this program during starting in 1941. As a civilian, Whitehead lived in Chicago. He died March 11, 1993, and his remains were moved to Abraham Lincoln National Cemetery on January 9, 2009 (Section C4-65, Niche A9).
Journalist John Whiteside (1943-2005) served in the U.S. Air Force in 1963-1964. After graduating from Northern Illinois University, in 1971 he went to work for the Herald News in Joliet, IL. Whiteside became a columnist for the newspaper a decade later and held that position until his death. He conducted interviews at local diner where a booth is dedicated to him. Whiteside advocated for veterans and police officers. His particular causes were the Abraham Lincoln National Cemetery honor guards and the police memorial at the Will County courthouse. Whiteside died January 22 and is buried at the cemetery (Section 1, Site 836).
We are developing educational content for this national cemetery, and will post new materials as they become available. Visit the Veterans Legacy Program and NCA History Program for additional information. Thank you for your interest.
return to top