Attention A T users. To access the menus on this page please perform the following steps. 1. Please switch auto forms mode to off. 2. Hit enter to expand a main menu option (Health, Benefits, etc). 3. To enter and activate the submenu links, hit the down arrow. You will now be able to tab or arrow up or down through the submenu options to access/activate the submenu links.

National Cemetery Administration
Sarasota National Cemetery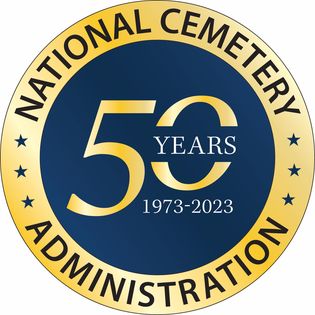 NCA marks 50 years (1973-2023) of serving America's Veterans, Service Members, and Families.

Learn more and watch NCA's 50th Anniversary Ceremony.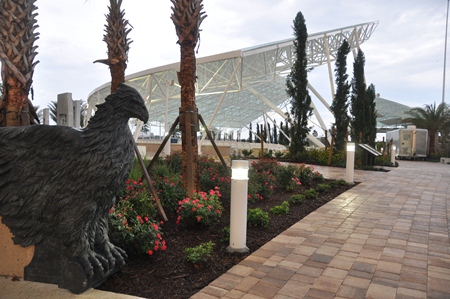 Office Hours: Monday thru Friday 8:00 a.m. to 4:30 p.m.
Closed federal holidays.
Visitation Hours: Open daily from sunrise to sunset.
This cemetery has space available to accommodate casketed and cremated remains. A columbarium is now available.
Burial in a national cemetery is open to all members of the armed forces who have met a minimum active duty service requirement and were discharged under conditions other than dishonorable.
A Veteran's spouse, widow or widower, minor dependent children, and under certain conditions, unmarried adult children with disabilities may also be eligible for burial. Eligible spouses and children may be buried even if they predecease the Veteran.
Members of the reserve components of the armed forces who die while on active duty or who die while on training duty, or were eligible for retired pay, may also be eligible for burial.
Take Interstate 75 to exit 205 (Clark Road) travel east four miles (toward Myakka River State Park), cemetery site is on the right.
Fax all discharge documentation to the National Cemetery Scheduling Office at 1-866-900-6417 and follow-up with a phone call to 1-800-535-1117.
For information on scheduled burials in our national cemeteries, please go to the Daily Burial Schedule.
The new 295-acre national cemetery in the Sarasota area will serve veterans' needs for the next 50 years. The cemetery is located in Sarasota County along State Road 72 and approximately four miles east of Interstate 75.
In April 2007, the Department of Veterans Affairs purchased the site from private citizens and has awarded a contract to Miller Legg & Associates of Winter Park, Fla., to design the new cemetery. Construction of Phase IB is complete and provides for nearly 18,200 full casket gravesites, including 15,200 pre-placed crypts, 9,000 in-ground cremains and approximately 7,200 columbarium niches. This also includes an administration and public information center complex with an electronic gravesite locator and public restrooms, a maintenance facility, a cemetery entrance area, a flag assembly area and a memorial walkway and a donations area, as well as two committal shelters and other infrastructure design elements include roadways, landscaping, utilities, and irrigation.
The 2,800-seat ceremonial amphitheater "Patriot Plaza", donated by The Patterson Foundation of Sarasota, was completed June 28, 2014. Every Tuesday at 10 a.m., there are guided tours of the commissioned art work located within the Patriot Plaza. To schedule larger group tours to include school children tours, please call the Arts and Cultural Alliance of Sarasota County at 941-365-5118 x301.
For educational materials and additional information on this cemetery, please visit the Education section, located below.
Our cemetery floral regulations exist only to reflect the honor and respect we hold for our Nation's Veterans, by preserving the dignity and solemnity of their final resting place.
We welcome and encourage fresh-cut flowers throughout the year and provide flower containers for gravesite display.
Flowers will be removed when they become unsightly, for mowing and maintenance, or if damaged by weather or wildlife. Due to the open nature of the grounds, we cannot guarantee against theft, vandalism or the effects of nature.
Items left at gravesite must be floral in nature and may not stand taller than the headstone. Other items, to include hazardous materials, glass, metal, toys, candles, and balloons are not permitted. Unauthorized items will be removed immediately. Removed items will be held for 30 days.
During the winter holiday season, (December 1 through January 10) potted plants, artificial flowers, wreaths (less than 18 inches in diameter) and grave blankets (less than 2 X 3 feet) are permitted.
During Easter and Memorial Day, potted plants may be placed on gravesites 10 days before through 10 days after the holiday.
In order to preserve the dignity, beauty and serenity of Sarasota National Cemetery, we ask you to please observe the following restrictions. Thank you for your cooperation:
Pets are not allowed on the cemetery grounds at any time.
No soliciting.
Sports or recreational activities of any kind are prohibited.
No picnicking.
Public gatherings of a partisan nature are prohibited, no unauthorized gatherings are permitted. Committal shelters are for services only, no loitering.
Do not litter, please use one of the many receptacles provided.
Smoking is not allowed on the grounds, in any building or the committal shelter. Please smoke only at the designated receptacles.
No cutting, digging or otherwise damaging the landscape.
Boisterous activity, including the playing of loud music, is prohibited.
Altering a headstone or niche cover in any manner is prohibited. (i.e., marking, sitting on, placing objects upon, attaching photographs or keepsakes to, etc.)
Please note that Sarasota National Cemetery is a fully operational cemetery. If there are services in progress, please keep a respectful distance from the funeral. No photography of funeral services is permitted without the consent of the family. If cemetery workers are engaged in burial operations, please keep to the road, or outside the marked perimeter of operations.
We thank you in advance for providing the respect our Veterans are due by observing the above listed rules. Our Nation's Heroes, some of whom gave their lives for this country, deserve no less than a pristine landscape to honor their final rest.
VA regulations 38 CFR 1.218 prohibit the carrying of firearms (either openly or concealed), explosives or other dangerous or deadly weapons while on VA property, except for official purposes, such as military funeral honors.
Possession of firearms on any property under the charge and control of VA is prohibited. Offenders may be subject to a fine, removal from the premises, or arrest.
"Sarasota" comes from the Calusa Indian language. While its exact meaning is unknown, it may mean "Point of Rocks." Native Americans settled in Florida at least 12,000 years ago. Over the millennia native Floridians developed complex cultures and some societies began to farm.
In April 1513, Spanish explorer Juan Ponce de Leon led the first European expedition to the peninsula. He named it La Florida in recognition of the lush landscape, and because it was the Easter season known as Pascua Florida (Festival of Flowers). Ponce de Leon's fleet explored both east and west coasts, and though the exact locations are in dispute, he may have come ashore in Charlotte Harbor about 50 miles south of Sarasota.
Sarasota's location on the west coast, protected by barrier islands, created an ideal marine environment for fish. As early as the mid 18th century, fishermen from Colonial America and Cuba established seasonal fishing camps in Sarasota Bay.
The Territory of Florida, established in 1821, attracted American settlers and speculators drawn by real estate opportunities. By 1840 the population exceeded 54,000-nearly half being African-American slaves-with most settlement found in the north. In 1845 Florida became a state.
Ranching expanded throughout Florida in the 1840s as cattlemen migrated southward and opened new range in the upper St. Johns River basin, the Kissimmee Prairie, and the Peace and Caloosahatchee river valleys. Tampa, 58 miles north of Sarasota, became a shipping port for 1,000 cattle per month.
In 1898, national attention focused on Florida during the Spanish-American War. Tampa served as the primary staging area for U.S. troops bound for combat in Cuba.
In the Sarasota area, the ranching industry grew quickly in the early 20th century, and thousands of cattle roamed the swamps and the countryside. By the 1920s, cattlemen began fencing in their property to protect livestock from disease; some of these ranches still exist.
Sarasota was incorporated as a city in 1913. In the early 1920s Sarasota began to enjoy the overall real estate boom sweeping Florida that was facilitated by an improving transportation infrastructure and a strong U.S. economy. However, much of the boom was fueled by land speculation and by 1925 the bubble burst and Sarasota fell into an economic depression.
Despite the locale's financial woes, the mild climate led businessman John Ringling in 1927 to make Sarasota the winter headquarters of the Ringling Brothers' and Barnum and Bailey Circus. The move provided performers with a reprieve, while Ringling and other managers planned new shows. Other circuses followed Ringling's lead, and soon Sarasota was dubbed "Circus City, U.S.A."
During World War II, the U.S. Army identified Florida as an ideal location for military flight training, due to its year-round good weather and abundance of flat, open terrain. The army operated two air stations in Sarasota County. The Sarasota Army Airfield, near the border with Bradenton County, opened in spring 1942 to train bomber pilots; it transitioned into a fighter station later in the year. The Venice Air Base opened in December 1942 as a training school for fighter pilots. Over the course of the war, over 6,000 personnel were stationed at the two installations. Soon after the armistice, both bases were deactivated and turned over to local governments.
Florida's population tripled between 1950-1980 as retirees flocked there for the warm climate, and as immigrants arrived for employment opportunities. Sarasota County shared in the expansion. While agriculture and ranching continued to be an important part of the local economy, the service sector grew considerably.
With the passage of the National Cemetery Expansion Act of 2003, Congress directed the U.S. Department of Veterans Affairs to establish six new national cemeteries. A demographic study of the nationwide veteran population identified the Sarasota area as lacking burial options. NCA considered three southwestern Florida sites before purchasing from J. Arlin Hawkins, in 2007, acreage that was operated as a family-operated ranch since the 1870s. Sarasota National Cemetery was formally dedicated in 2008 and opened for burials the following year. It is the sixth national cemetery established in Florida and the 127th in the national cemetery system.
We are developing educational content for this national cemetery, and will post new materials as they become available. Visit the Veterans Legacy Program and NCA History Program for additional information. Thank you for your interest.
return to top