Attention A T users. To access the menus on this page please perform the following steps. 1. Please switch auto forms mode to off. 2. Hit enter to expand a main menu option (Health, Benefits, etc). 3. To enter and activate the submenu links, hit the down arrow. You will now be able to tab or arrow up or down through the submenu options to access/activate the submenu links.

National Cemetery Administration
Fort Douglas Post Cemetery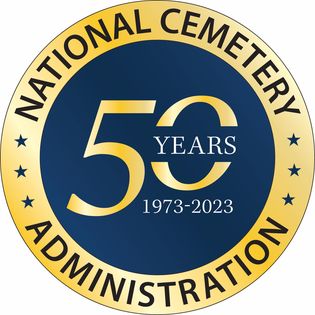 NCA marks 50 years (1973-2023) of serving America's Veterans, Service Members, and Families.

View events, daily photos of national cemeteries and more.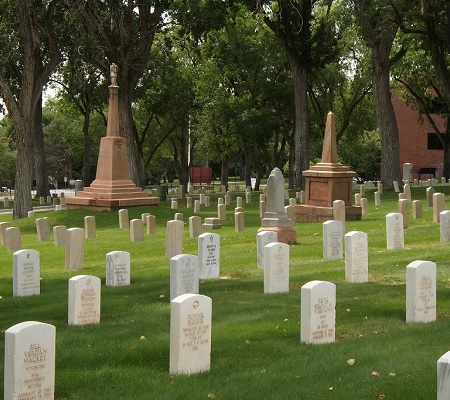 Visitation Hours: Open daily from sunrise to sunset.
Ft. Douglas Post Cemetery is currently closed to new interments. The only interments that are being performed are subsequent interments for Veterans or eligible family members in an existing gravesite.
Burial in a national cemetery is open to all members of the armed forces who have met a minimum active duty service requirement and were discharged under conditions other than dishonorable.
A Veteran's spouse, widow or widower, minor dependent children, and under certain conditions, unmarried adult children with disabilities may also be eligible for burial. Eligible spouses and children may be buried even if they predecease the Veteran.
Members of the reserve components of the armed forces who die while on active duty or who die while on training duty, or were eligible for retired pay, may also be eligible for burial.
From SLC International Airport take I-80E to East 600 Martin Luther King Jr, Blvd. Exit 121. Follow UT-186 East to Wakara Way. Turn left onto S 1100 East. Turn right after little Caesars Pizza. Continue on Wakara Way. Drive to Tabby Ln. Cemetery will be on your left-hand side.
Fax all discharge documentation to the National Cemetery Scheduling Office at 1-866-900-6417 and follow-up with a phone call to 1-800-535-1117.
For information on scheduled burials in our national cemeteries, please go to the Daily Burial Schedule.
Ft. Douglas Post Cemetery comprises 3.26 acres overlooking the beautiful Salt Lake Valley. Transferred from the U.S. Army to the National Cemetery Administration in 2019, the cemetery is located next to the University of Utah research park and the Fort Douglas history museum.
For educational materials and additional information on this cemetery, please visit the Education section, located below.
Cemetery policies are conspicuously posted on the property and readily visible to the public.
Headstones and monuments in this cemetery are fragile. Please do not sit on, lean against, climb on, or affix any items to the headstones and monuments.
For your safety, no guns, knives or other weapons including fireworks are allowed on cemetery property.
No alcoholic beverages or illicit drugs are allowed in the cemetery.
Pets are not allowed in the cemetery. Service animals are allowed.
Fresh cut flowers may be placed on gravesites anytime of the year and will be removed when wilted or unsightly.
Artificial Flowers are permitted on gravesites from November through March.
Potted plants are only allowed TEN (10) days before and after Easter and Memorial Day.
Permanent plantings, statues, vigil lights, breakable objects, and related items are not permitted on gravesites and will be removed immediately upon discovery.
For additional information concerning interments, floral regulations, or maintenance issues, please contact the cemetery officials at (303) 761-0117.
VA regulations 38 CFR 1.218 prohibit the carrying of firearms (either openly or concealed), explosives or other dangerous or deadly weapons while on VA property, except for official purposes, such as military funeral honors.
Possession of firearms on any property under the charge and control of VA is prohibited. Offenders may be subject to a fine, removal from the premises, or arrest.
On October 26, 1862, Colonel Patrick E. Connor, California Volunteers, established Camp Douglas on a rise in the Wasatch Range foothills a few miles east of the Mormon capital of Salt Lake City in the Utah Territory. It was named in honor of recently deceased Illinois Senator Stephen A. Douglas. A cemetery site was chosen within the camp and the first committal occurred by the end of the year. The camp's strategic importance was twofold. First, protect important communication and transportation lines against hostile Native Americans during the Civil War. Second, act as a strong federal presence among the predominately Mormon population that had historically shown non-cooperation toward federal authority following the formal establishment of the Utah Territory in 1850.
During the camp's first winter, Colonel Connor launched an offensive against Shoshone leader Bear Hunter and other tribes known to be harassing overland mail and mining operations in northern Utah and southern Idaho. Connor's campaign culminated in the January 29, 1863, massacre at Bear River 140 miles north of Salt Lake City. In this engagement, Connor's troops launched a daybreak attack on an unsuspecting Shoshone encampment, leaving an estimated 250 dead—including women and children. Connor was promoted to brigadier general after the engagement and peace was established with area tribes by fall of that year. Twenty-one of Connor's men died in the attack.
The camp remained an important western outpost for the U.S. military. Successful prospecting for minerals, initiated by Connor, led to an influx on non-Mormon settlers to the territory. The camp was rebuilt between 1874 and 1876 with an "Officers Circle" established northwest of the post cemetery. New construction primarily used the same red sandstone featured prominently in the cemetery's early headstones and monuments. The post was designated Fort Douglas in 1878. The fort became one of the main military installations in the central Rocky Mountains toward the end of the nineteenth century. Most of its garrison was deployed for service in the Spanish-American War. The post continued to expand and became a regimental headquarters in 1902.
During World War I, Fort Douglas served as one of the Army's physical-preparedness camps for recruits. It was also the site of an internment camp for more than 300 German prisoners of war during the conflict. During the years between the two world wars it served as a district headquarters and training camp for the New Deal's Civilian Conservation Corps. The fort continued in its role as an important training and mobilization base during World War II and resumed its role as a POW camp. Following WWII, Fort Douglas served as headquarters for Army Reserve and National Guard Units. The base was officially decommissioned on October 26, 1991.
The current post cemetery is approximately 4 acres, expanded from its original size of about 125 feet by 200 feet, probably around 1890, and again in 1939. The original 1862 plot contained 22 headstones and one large grave marker associated with the Bear River dead, the first military interments here. Most of these markers, carved using sandstone from Red Butte Canyon, deteriorated to the point they were replaced with government headstones in the early 2000s. The grave of former Governor James D. Doty features a marker made of the same material. In the late-nineteenth century, the burial of civilians in a non-denominational fenced area called Mount Olivet Cemetery was endorsed by local religious leaders and Congress; today these graves, many unknown, make up Section H. Walkways, roads, and fences organized the interior of the cemetery over the years, and the poorly constructed wall was replaced with an iron fence. Numerous private grave markers are found on graves among the graves marked with government-issued headstones. Locust trees planted in the mid-1860s along the interior perimeter of the cemetery, paid for by donations, were an important part of the landscape. The metal gate installed at the original north entrance to the cemetery in the mid-1860s, supported by sandstone piers, is all that remains of the original wall.
A Fort Douglas historic district, which includes the cemetery, was listed on the National Register of Historic Places in 1970; a subsequent National Historic Landmark designation in 1975 does not include the cemetery. The post cemetery was transferred from the Army to NCA on December 20, 2019.
Monuments and Memorials
A 20-foot tall monument carved of Red Butte sandstone located in the center of the cemetery honors the 21 soldiers killed in the Bear River action. It was erected in spring 1863 after regimental drum major James Cottrell proposed the monument, to be built with donations. He shares credit with the final design with Mormon-convert and English carver Samuel Lane Jones, Jr. The base, die, and post topped by a figure of a soldier. It is inscribed with the name and rank of each soldier illustrating Jones' distinctive style of punctuation and abbreviation. He also carved the headstone for Fort Douglas chaplain and surgeon Dr. J. King Robinson. This monument was removed from the cemetery in 2019 for conservation and it was reinstalled the next year.
The World War I German POWs who died while interned at Camp Douglas are memorialized by a 15-foot-tall granite monument erected in the southeast corner of the cemetery. The 21 remains were also reinterred to this area in 1933. The Art Moderne monument was sculpted and built by Arno Alfred Steinicke (1892–1968), and dedicated on Memorial Day, May 30, 1933. A kneeling figure of a wounded soldier sits atop a shaped stele inscribed with a German coat of arms featuring a Bundesadler or "Federal Eagle"; a bronze plaque lists the names of the deceased. It was donated by German-Americans of the United States and the American Legion of Utah. As part of the dedication ceremony, the German government bestowed a medal to a physician who attended the ailing POWs, German choral music was sung, and flowers were dropped on the monument from a U.S. Army plane that flew low over the cemetery.
Patrick Edward Connor was born in 1820, emigrated from Ireland, and settled in New York City. He enlisted in the Army in 1838, serving in the Iowa Territory. Around 1846 he joined the Texas Volunteers at the start of the Mexican-American War and was wounded at Buena Vista. He settled in California after the war and he was sought to join the California Rangers in 1853 to bring Mexican outlaws to justice. He volunteered for Civil War service and was appointed colonel, 3rd California Infantry. His headquarters was at Salt Lake City. He had an acrimonious relationship with Mormons there and fought against native tribes hostile to settlers. He was promoted to brigadier general for the successful attack at Bear River in January 1863, and three years later he was discharged as a brevet major general. He lived in the West for the remainder of his life, dabbling in mining, newspaper publishing, politics, and other business ventures. He died on December 17, 1891 (Section K, Site SEP).
James Duane Doty served as the fifth governor of the Territory of Utah (1863–1865). Born in 1799, his career included government posts in Michigan and Wisconsin, where he was a delegate to Congress, territorial governor (1841–1844), and state legislator. Originally a Democrat, he became a "Free Soiler" then a Republican. President Abraham Lincoln named him superintendent of Indian affairs for Utah in 1861, then as governor in 1863. Under his management, federal relations with the Mormons improved and he advocated for schools and treaties with Native Americans. He was reappointed by Lincoln but died in office on June 13, 1865. His grave is marked by an 11-foot-tall red sandstone composed of a base, die and obelisk (Section E, Site 14).
Other Burials
During World War I, Fort Douglas was the site of an internment camp for more than 300 German prisoners, and during World War II resumed its role as a POW camp. Treatment of POWs is determined by the laws of war (today set out in the various Hague Conventions from 1899 and 1907, Geneva Conventions of 1949, Additional Protocols of 1977, and customary international law). Fifty-five enemy POWs are buried in the Fort Douglas post cemetery — 21 Germans from WWI and 34 from WWII, including 21 Germans, 12 Italians, and 1 Japanese. In 1933, the remains of the 21 Germans WWI POWs were disinterred from elsewhere in the cemetery and moved to the southwest corner where a POW Monument was erected at the same time (Section L). The WWII POW graves, located in the northeast corner, are marked with government-issued headstones except for that of Paul Eilert (1905–1944). He was the first German prisoner to die at the Fort Douglas POW camp, and fellow prisoners paid for the headstone, which was inscribed with the German WWII Iron Cross and swastika. Fort Douglas Post Cemetery is one of 23 NCA cemeteries containing the graves of more than a thousand world war enemy POWs; it is one of two NCA cemeteries containing German POWs of both world wars, the other is Chattanooga National Cemetery.
We are developing educational content for this national cemetery, and will post new materials as they become available. Visit the Veterans Legacy Program and NCA History Program for additional information. Thank you for your interest.
return to top