Attention A T users. To access the menus on this page please perform the following steps. 1. Please switch auto forms mode to off. 2. Hit enter to expand a main menu option (Health, Benefits, etc). 3. To enter and activate the submenu links, hit the down arrow. You will now be able to tab or arrow up or down through the submenu options to access/activate the submenu links.

National Cemetery Administration
Camp Butler National Cemetery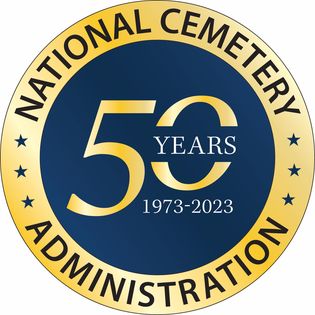 NCA marks 50 years (1973-2023) of serving America's Veterans, Service Members, and Families.

Learn more and watch NCA's 50th Anniversary Ceremony.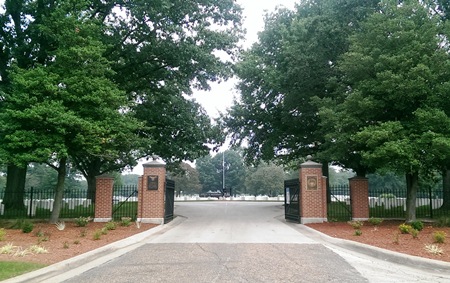 Visitation Hours: Open daily from 7:30 a.m. to sunset.
Office Hours: Monday thru Friday 7:30 a.m. to 4:00 p.m. Closed federal holidays except Memorial Day.
This cemetery has space available to accommodate casketed and cremated remains.
Burial in a national cemetery is open to all members of the armed forces who have met a minimum active duty service requirement and were discharged under conditions other than dishonorable.
A Veteran's spouse, widow or widower, minor dependent children, and under certain conditions, unmarried adult children with disabilities may also be eligible for burial. Eligible spouses and children may be buried even if they predecease the Veteran.
Members of the reserve components of the armed forces who die while on active duty or who die while on training duty, or were eligible for retired pay, may also be eligible for burial.
Situated in Sangamon County near Riverton, six miles northeast of Springfield, IL. The cemetery is located 2 ¼ miles east of U.S. Highway 55 (Exit 100 – Clinton exit), on Camp Butler Road (old U.S. 36).
Fax all discharge documentation to the National Cemetery Scheduling Office at 1-866-900-6417 and follow-up with a phone call to 1-800-535-1117.
For information on scheduled burials in our national cemeteries, please go to the Daily Burial Schedule.
Under Development.
For educational materials and additional information on this cemetery, please visit the Education section, located below.
Cemetery policies are conspicuously posted and readily visible to the public.
Floral arrangements accompanying the casket or urn at the time of burial will be placed on the completed grave. Natural cut flowers may be placed on graves at any time of the year. They will be removed when they become unsightly or when it becomes necessary to facilitate cemetery operations such as mowing.
Artificial flowers will be permitted on graves during periods when their presence will not interfere with grounds maintenance. As a rule, artificial flowers are permitted on graves during the period of October 10 through April 15, and ten days before and after Memorial Day.
Christmas wreaths, grave pillows and other seasonal adornments may be placed on graves from December 1 through January 20. They may not be secured to headstones or markers.
To preserve the dignity and appearance of your loved one's final resting place, the following items aren't allowed at headstones or columbariums:
Alcoholic products
Balloons, candles, or vigil lights
Decorative and breakable glass, plastic items, or objects
Non-government supplied floral containers (pots, planters, glass vases, etc.)
Objects such as rocks or other durable items, beads or wires that when mowing or performing maintenance could become projectiles or become entangled in equipment that may cause injury
Offensive items or those deemed contrary to honoring Veterans
Permanent in-ground plantings or floral containers
Pinwheels or windchimes
Statues or stuffed animals
Weapons of any kind, explosives, or ammunition
Also, permanent in-ground floral containers are not authorized for placement in new national cemeteries or in new sections of existing cemeteries.
As a courtesy, personal items, removed prohibited items, and artificial floral arrangements that are in good condition will be stored in an inconspicuous holding area for a period of not less than 30 days. During that time cemetery personnel will assist families who request to retrieve those personal items. Items that are not in good condition will not be placed in the holding area but will be disposed of immediately without notice. Personal items removed from gravesites which are not retrieved during the 30-day holding period may be disposed of consistent with the rules governing the disposal of Federal property.
VA regulations 38 CFR 1.218 prohibit the carrying of firearms (either openly or concealed), explosives or other dangerous or deadly weapons while on VA property, except for official purposes, such as military funeral honors.
Possession of firearms on any property under the charge and control of VA is prohibited. Offenders may be subject to a fine, removal from the premises, or arrest.
Camp Butler National Cemetery is located in Sangamon County near Riverton, IL, and occupies a portion of what was the second-largest military training camp in Illinois during the Civil War.
Soon after the firing on Fort Sumter in 1861, President Abraham Lincoln issued a proclamation calling for troops to defend the Union. Each state struggled to fulfill the president's request but found the available men woefully unprepared for the rigors of war. The obvious solution, to federal officials, was to establish facilities for the receipt and training of war recruits. In 1861, the War Department dispatched General William Tecumseh Sherman to Springfield, IL, to select a site for a military training camp. Illinois Governor Richard Yates tasked the state treasurer, William Butler, with assisting the general. The men found an ideal location six miles outside of Springfield with a high ground for camping purposes and a lower, more-level area for drills and training, as well as space for a cemetery. General Sherman was pleased with the site and named it Camp Butler to honor his companion.
The first troops arrived at Camp Butler in August 1861 and by the end of the month, 5,000 men occupied the camp. As the war progressed, additional uses were found for the grounds, including a prisoner of war camp. In February 1862, approximately 2,000 Confederate soldiers captured when Fort Donelson was surrendered, arrived at Camp Butler. As the POWs arrived—from all 11 southern states except Florida—they were put to work constructing a stockade and hospital. The hastily constructed barracks were inadequate and poorly constructed. Sanitation facilities were primitive and the daily ration of food often consisted of little more than hard biscuits and a cup of thin coffee. Almost immediately, the POWs began to die at a rapid rate. The heat of the summer combined with the severe winter cold, as well as diseases such as smallpox, typhus and pneumonia, decimated the prisoner population. Roughly 700 POWs died in the smallpox epidemic of summer 1862.
Along with soldiers who fought for both the Union and Confederate sides during the Civil War, veterans who lost their lives in the Spanish-American War, the two World Wars, the Korea War and the Vietnam War are also buried at Camp Butler National Cemetery. Camp Butler was the final resting place of many remains returned from overseas following World War II. Camp Butler National Cemetery was placed on the National Register of Historic Places in 1997.
Monuments and Memorials
The only memorial at Camp Butler is a carillon the American Veterans (AMVETS) donated around 1970 as part of their international living memorial program, which began shortly after World War II.
A monument was erected in December 2005 by the United Daughters of the Confederacy and Sons of Confederate Veterans in honor of Confederate soldiers who died at Camp Butler prison camp during the Civil War. The monument is located within the Confederate Section.
A monument honoring the Illinois LST sailors was erected in May 2006.
Blue Star Memorial installed May 19, 2006.
Korean War Veterans Memorial installed May 23, 2006.
Medal of Honor Recipients
The Medal of Honor is the highest award for valor in action against an enemy force that can be bestowed upon an individual serving in the Armed Services of the United States. Recipients receive the Medal of Honor from the president on behalf of Congress. It was first awarded during the Civil War and eligibility criteria for the Medal of Honor have changed over time.
Recipients buried or memorialized here:
Seaman John H. Catherwood, (Philippines, 1911). He received the Medal of Honor while serving in the U.S. Navy, for actions while attached to the U.S.S. Pampanga on the island of Basilan, Philippine Islands, on September 24. Catherwood died in 1930 and is buried in Section F, Site 1.
Other Burials
George W. Ford was a career national cemetery superintendent and civil rights activist whose headstone at Camp Butler National Cemetery, IL, reads "Supt. of this cemetery for 24 years," reveals nothing of his remarkable life. Born a free black in 1847, he became one of the first African Americans appointed as a national cemetery superintendent, a career that spanned over a half century. Ford left his cemetery post once, to fight in the Spanish-American War. Major Ford went to Cuba with the 23rd Kansas Volunteers, commanded by Teddy Roosevelt. As a result he was a delegate to the Republican National Convention of 1899, where Roosevelt was nominated as vice president. In 1905, Ford lobbied for civil rights as a charter member of the Niagara Movement. He died on June 20, 1939, and is buried in Camp Butler National Cemetery (Section 3, Site 869).
Otis Beverly Duncan was born on November 18, 1873, in Springfield, IL. His grandfather, William Fleurville, was President Abraham Lincoln's barber and honorary pallbearer at his funeral. The false arrest of his grandson, Duncan's cousin, helped spark the Springfield Race Riot of 1908, which in turn led to the establishment of the National Association for the Advancement of Colored People. Duncan worked for the Illinois Superintendent of Public Instruction, and he joined the National Guard in 1902. He served with the 8th Illinois during the 1916 Mexican Border conflict and the 370th Infantry (8th IL) during World War I. At the war's end, Lt. Col. Duncan was the American Expeditionary Forces' highest-ranking African-American officer and he received the French Croix de Guerre. Back in Springfield, he became commanding officer of the 8th Illinois National Guard and the American Legion Post is named for him. Duncan died May 17, 1937, and is buried in Camp Butler National Cemetery (Section 3, Site 835).
return to top