Attention A T users. To access the menus on this page please perform the following steps. 1. Please switch auto forms mode to off. 2. Hit enter to expand a main menu option (Health, Benefits, etc). 3. To enter and activate the submenu links, hit the down arrow. You will now be able to tab or arrow up or down through the submenu options to access/activate the submenu links.

National Cemetery Administration
Barrancas National Cemetery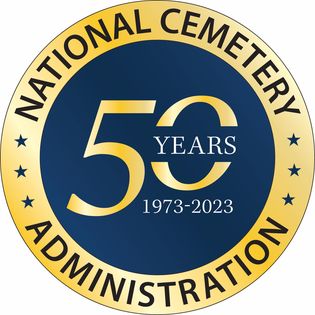 NCA marks 50 years (1973-2023) of serving America's Veterans, Service Members, and Families.

Learn more and watch NCA's 50th Anniversary Ceremony.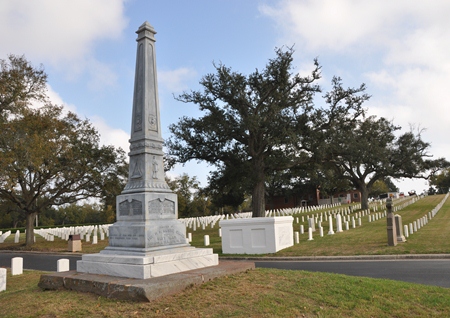 Visitation Hours: Open daily from sunrise to sunset.
Office Hours: Monday thru Friday 8:00 a.m. to 4:30 p.m. Closed federal holidays except Memorial Day.
This cemetery has space available to accommodate casketed and cremated remains.
Burial in a national cemetery is open to all members of the armed forces who have met a minimum active duty service requirement and were discharged under conditions other than dishonorable.
A Veteran's spouse, widow or widower, minor dependent children, and under certain conditions, unmarried adult children with disabilities may also be eligible for burial. Eligible spouses and children may be buried even if they predecease the Veteran.
Members of the reserve components of the armed forces who die while on active duty or who die while on training duty, or were eligible for retired pay, may also be eligible for burial.
Regional Airport is located approximately seven miles northeast of downtown Pensacola. The cemetery is located approximately eight miles southwest of downtown. From the airport travel West on 12th Avenue bearing right onto Fairfield Drive. When Fairfield divides, go left onto State Road 295 (following signs to Naval Air Station). Enter the base through the left hand visitors lane. Once access has been obtained follow the road to the first light making a right onto Taylor Road and you will see the cemetery entrance gate on the right. Follow the entrance road to the administrative office for assistance.
Fax all discharge documentation to the National Cemetery Scheduling Office at 1-866-900-6417 and follow-up with a phone call to 1-800-535-1117.
For information on scheduled burials in our national cemeteries, please go to the Daily Burial Schedule.
IMPORTANT: The cemetery is located exclusively within the boundaries of Naval Air Station Pensacola, which is an active duty military base. While we work hard to address visitation to the cemetery, access to Barrancas National Cemetery is entirely dependent on access to the Naval Air Station. Hence, both the hours of and the requirements for base access might be more restrictive as well as subject to change on short notice due to Department of Defense regulations and may not always be immediately posted to their website. Therefore, it is vital that you pre-plan your visits accordingly by visiting their visitor information website as well as their homepage for notifications/alerts which might change access. If their website is unavailable or you need further information, please call their Pass and Tag (building 777) telephone number at (850) 452-4153 or, in the event that line does not work, the Headquarters Quarterdeck at (850) 452-4785 or 4786.
Additional Helpful Visitor Information
While we cannot forecast or verify all base access requirements or changes to them, some helpful tips include:
Having an accepted federally issued identification card if you are a current or retired service member or other eligible individual makes base access simpler. Every visitor over the age of 15 having a state issued identification, state issued driver's license or a passport.
The vehicle driver should have a current state issued driver's license, paper/hardcopy proof of insurance and vehicle registration.
As of the time of this webpage update (subject to change), all visitors not in possession of an accepted federally issued identification card must enter through the main gate off of Navy Blvd (see DIRECTIONS FROM NEAREST AIRPORT above for how to get to the main gate).

Upon arrival to NAS Pensacola all vehicle occupants will be directed to building 777 (Pass & ID, also known as Pass & Tag or Visitor Center) just inside the main gate for proper vetting.
Arrive well in advance of your desired time due to potential traffic, vehicle search, building 777 waits, etc. As noted above, access to Barrancas National Cemetery

is entirely dependent

on access to the Naval Air Station so in the absence of an accepted federally issued identification card you may not be able to enter the base if building 777 is closed or you arrive too late on a weekend. Hence, the importance of checking their website and/or calling the Pass & Tag telephone number.
Special Note for Committal Services
Barrancas National Cemetery and our military counterparts cannot deviate from our scheduled times due to the number of services we offer. Your cooperation and timely arrival for your service will afford all our families the best experience possible with our committal services. For funerals not arriving in procession, please plan to arrive at NAS Pensacola at least 45 minutes prior to your scheduled service time to allow for proper security vetting.
Military Funeral Honors
Arrangements for military honors are the responsibility of the funeral director or the family. The Barrancas Cemetery staff will provide the contact telephone numbers upon request.
Local Military and Chaplain Telephone Numbers
US Air Force: (850) 882-2156 Chaplain and honors
US Army: (334) 255-9081 or 9311 Chaplain and honors
US Marine Corps: (866) 826-3628 for honors; (850) 452-2341 for Chaplain
US Navy: (904) 452-1536 or (904) 452-9807 for honors; (850) 452-2341 for Chaplain
US Coast Guard: (251) 441-6014 or (305) 335-4591 for honors; (850) 452-2341 for Chaplain
For educational materials and additional information on this cemetery, please visit the Education section, located below.
On the day of interment floral arrangements (limit of three) accompanying the casket or urn will be placed on the completed grave. They will be removed when they become unsightly or when it becomes necessary to facilitate cemetery operations such as mowing. Valuable mementos and tributes should not be left unattended at the gravesite. We recommend that expensive baskets and living plants be taken home following the committal service.
Natural cut flowers may be placed on graves at any time of the year. They will be removed when they become unsightly or when it becomes necessary to facilitate cemetery operations. Temporary flower vases can be found in containers along the roadside throughout the cemetery. The vases are U. S. Government property and should not be removed from the cemetery.
Floral or other decorative items will not be attached to the headstones or markers.
Artificial flowers will be permitted during the period from November 10 through March 1.
Potted plants will be permitted on graves during period extending 10 days before through 10 days after Easter Sunday and Memorial Day, Veterans Day and Christmas.
All holiday themed adornments, flowers, blankets, and potted, plants either natural or artificial, will be removed 10 days after the date of the holiday.
All florals shall be placed in bins at the cemetery and held for 30 days. Afterwards, the cemetery will dispose of the items.
ITEMS NOT PERMITTED: Permanent plantings, statues, vigil lights, breakable objects and similar items are not permitted on the graves. The Department of Veterans Affairs does not permit adornments that are considered offensive, inconsistent with the dignity of the cemetery or considered hazardous to cemetery personnel. For example, items incorporating beads or wires may become entangled in mowers or other equipment and cause injury.
Permanent items removed from graves will be placed in an inconspicuous holding area for one month prior to disposal. Decorative items removed from graves remain the property of the donor but are under the custodianship of the cemetery. If not retrieved by the donor, they are then governed by the rules for disposal of federal property.
WEATHER CONDITIONS: When Hurricane Condition II is declared by the National Weather Service or Naval Air Station authorities, ALL ITEMS WILL BE REMOVED FROM THE GRAVESITES.
For clarification of floral regulations or other questions about Mobile National Cemetery you may call Barrancas National Cemetery at 251-690-2858 or 850-453-4846.
VA regulations 38 CFR 1.218 prohibit the carrying of firearms (either openly or concealed), explosives or other dangerous or deadly weapons while on VA property, except for official purposes, such as military funeral honors.
Possession of firearms on any property under the charge and control of VA is prohibited. Offenders may be subject to a fine, removal from the premises, or arrest.
Barrancas National Cemetery is located within the boundaries of the U.S. Naval Air Station, eight miles southwest of downtown Pensacola, FL. The Pensacola Naval Air Station is home to the U.S. Naval Air Training Command and encompasses almost 12,000 acres. It was established in 1914 on the site of the old U.S. Navy Yard at Pensacola. A small cemetery had been maintained here in conjunction with the Marine Hospital that was located near Fort Barrancas. In 1838, the cemetery was expanded and established as a naval cemetery. During the Civil War years, many casualties were interred in gravesites initially set aside for personnel on duty at the Navy Yard.
Following the election of President Abraham Lincoln in 1861, Florida seceded from the Union despite its entry only 16 years before. As it provided the best harbor along the Gulf of Mexico, possession of Pensacola Bay was a key mission for both the Union and Confederate forces. The Army guarded the entrance to Pensacola Bay with three fortifications: Fort McRae and Fort Barrancas on the land side, and Fort Pickens at the western tip of Santa Rosa Island. Army Lieutenant Adam J. Slemmer, commander of the 1st U.S. Artillery at Fort Barrancas, realized that if war proved inevitable and Southern forces attacked, his small force of 51 men could not possibly defend all four garrisons. On January 10, 1861, the same day Florida seceded from the Union, Slemmer spiked the guns at Fort Barrancas, blew up ammunition at Fort McRae and concentrated all his troops at Fort Pickens, which he believed was the key to the defense of Pensacola Harbor. Two days later, Slemmer's men watched as Southern soldiers moved into the other forts across the channel. When, on January 15, soldiers from Florida and Alabama demanded the surrender of Fort Pickens, Lieutenant Slemmer refused. Within days the two sides reached a truce in which the South agreed not to attack Fort Pickens and the North would not reinforce the fort.
By the time Lincoln took office in March, both Fort Sumter in the harbor of Charleston, S.C., and Fort Pickens needed supplies. Lincoln had pledged to continue federal occupation of both forts. If he withdrew the garrisons it would mean he recognized the legitimacy of the Confederacy; if he supplied the forts he risked war. The Union eventually did send ships from Fort Monroe but, under the terms of the truce, they dared not land. For 10 weeks, the Union ships waited, while inside the fort Slemmer and his men prepared for the inevitable strike. After ten weeks without an attack, Slemmer and his men learned of the firing on Fort Sumter and the beginning of the Civil War.
On the mainland, the Navy Yard was surrendered intact to Confederate forces on April 12, 1861, but Fort Pickens remained under control of the Union forces throughout the Civil War. For the next year, Confederate and Union forces engaged in a number of skirmishes. In May 1862, Confederate forces abandoned the Navy yard, Fort Barrancas, and Fort McRae. The continuing presence of a strong federal force at Fort Pickens no doubt was a significant factor in the Confederate decision to abandon the Pensacola Bay area.
Many Union and Confederate dead were interred in the Barrancas cemetery. As the war continued, the remains of other casualties were brought here for burial. By agreement between the Secretary of the Navy and the Secretary of War, on January 30, 1868, the cemetery was transferred to the War Department to become Barrancas National Cemetery.
In 1869, Gen. Lorenzo Thomas, inspector of national cemeteries, reported that about 1,310 burials had been made in the cemetery. In addition to the troops stationed at Forts Barrancas and Pickens, remains had been reinterred here from the surrounding area, including Santa Rosa Island and Apalachicola in Franklin County. This total included the remains of 673 unknown Union soldiers.
In 1944, 1950, 1986, and 1990 additional acreage was transferred from the Naval Air Station to expand the cemetery.
Monuments and Memorials
Barrancas National Cemetery contains a monument honoring those who died from yellow fever. It was erected in 1884 by the Marine Guard of the Navy Yard in memory of eight comrades who died in an epidemic during late August and early September 1883. The names of the fever victims are inscribed on the four faces of the monuments.
Medal of Honor Recipients
The Medal of Honor is the highest award for valor in action against an enemy force that can be bestowed upon an individual serving in the Armed Services of the United States. Recipients receive the Medal of Honor from the president on behalf of Congress. It was first awarded during the Civil War and eligibility criteria for the Medal of Honor have changed over time.
Recipients buried or memorialized here:
Brigadier General George E. "Bud" Day (Vietnam). He received the Medal of Honor while serving in the U.S. Air Force, 31st Tactical Fighter Wing, for personal bravery that saved the lives of fellow aviators after his aircraft was shot down in North Vietnam, August 26, 1967. Day died in 2013 and is buried in Section 51, Site 30.
Commander Clyde E. Lassen (Vietnam). He received the Medal of Honor while serving in the U.S. Navy, Helicopter Support Squadron 7, for actions in the rescue of downed aviators in the Republic of Vietnam, June 19, 1968. Lassen died in 1994 and is buried in Section 38, Site 113.
Major Stephen W. Pless (Vietnam). He received the Medal of Honor while serving in the U.S. Marine Corps, 1st Marine Aircraft Wing, for outstanding flying skills in the rescue of wounded soldiers near Quang Nai, in the Republic of Vietnam, August 19, 1967. Pless died in 1969 and is buried in Section 21, Site 929-A.
Staff Sergeant Clifford Sims (Vietnam). Clifford Sims was born in Florida on June 18, 1942. He enlisted in the U.S. Army in December 1961. In December 1967, Staff Sergeant Sims fought in the Vietnam War with Company D, 2nd Battalion, 501st Infantry, 101st Airborne Division. Sims' company was near the city of Hue when the Tet Offensive began. On February 21, 1968, under heavy fire, Sims maneuvered his squad by a burning ammunition bunker before throwing himself over a tripped booby trap. For his sacrifice, Sims was posthumously awarded the Medal of Honor. He was buried in Barrancas National Cemetery on March 15, 1968, in Section 29, Site 546.
Other Burials
Ga-ah was the second wife of Apache Chief Geronimo and she joined him in resistance to Mexican and Arizona territorial expansion into tribal lands. During the Indian Wars, U.S. forces captured and imprisoned Ga-ah at Fort Pickens, Florida, where she died of pneumonia, or Bright's disease. Ga-ah was apparently the only prisoner to die at the fort during the Indian Wars, and the only prisoner of war interred in a Florida cemetery. She died September 29, 1887 (Section 18, Site 1496).
Born in Florida in 1933, Rosamond Johnson, Jr., joined the army at 15. He was the first African American from Escambia County to die in the Korean War. Johnson served in the 24th Infantry Regiment, 25th Division. Private First Class Johnson was killed in action on July 26, 1950, after carrying two wounded men to safety, for which he received the Purple Heart posthumously. The county named a blacks-only beach for him in the 1950s. Today Johnson Beach is part of Gulf Islands National Seashore, where a monument in his honor was placed in 1996. Johnson was buried in Barrancas National Cemetery on April 23, 1952 (Section 8, Site 65).
Seven of the fourteen crewmembers of the C-130 Hercules Gun-Ship shot down during the Persian Gulf War are buried alongside each other in Section 38.
Two aircrew members, who were in direct support of Somalia, died when their USAF C-130 "JOCKEY 14" Hercules aircraft crashed during takeoff from the coast of Kenya. They are interred next to each other in Section 38.
Seventeen casualties of the 2nd Seminole War from Ft. Myers were reinterred in Section 3 in 1996.
Two local airmen killed by terrorists at the Saudi Arabia U.S. Housing Compound in Dhahran, June 25, 1996, are buried in Section 39, Sites 81 & 82.
The remains of three repatriated aviators from Vietnam are interred in Section 38 and 41.
Ten British aviators killed during training at a naval air station during World War II are buried in Section 23, Sites 1923, 1931, 1955, 1956, 1972, 1994, 1996, 1997, 1998 & 1999.
Sections 1 thru 12 contain the remains of Civil War casualties and include:
White Union Soldiers – known: 379, unknown: 271
U.S. Colored Troops – known: 154, unknown: 98
Citizens – known: 21, unknown: 47
Confederate Soldiers – known: 60, unknown: 12
Officers and Sailors of the U.S. Navy – known:112, unknown: 225
return to top