Attention A T users. To access the menus on this page please perform the following steps. 1. Please switch auto forms mode to off. 2. Hit enter to expand a main menu option (Health, Benefits, etc). 3. To enter and activate the submenu links, hit the down arrow. You will now be able to tab or arrow up or down through the submenu options to access/activate the submenu links.

National Cemetery Administration
Fort Sam Houston National Cemetery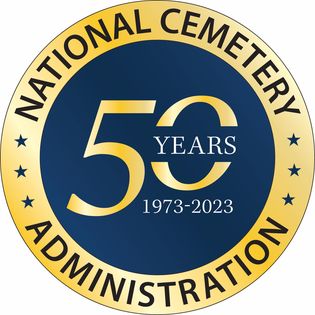 NCA marks 50 years (1973-2023) of serving America's Veterans, Service Members, and Families.

View events, daily photos of national cemeteries and more.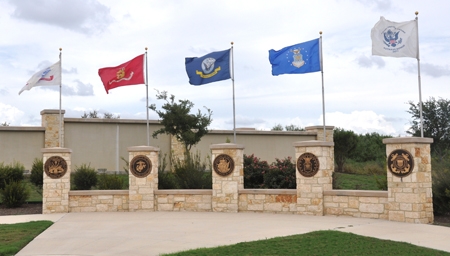 Visitation Hours: Open daily from sunrise to sunset.
Office Hours: Monday thru Friday 8:00 a.m. to 4:30 p.m. Closed federal holidays except Memorial Day and Veterans Day.
This cemetery has space available to accommodate casketed and cremated remains.
Burial in a national cemetery is open to all members of the armed forces who have met a minimum active duty service requirement and were discharged under conditions other than dishonorable.
A Veteran's spouse, widow or widower, minor dependent children, and under certain conditions, unmarried adult children with disabilities may also be eligible for burial. Eligible spouses and children may be buried even if they predecease the Veteran.
Members of the reserve components of the armed forces who die while on active duty or who die while on training duty, or were eligible for retired pay, may also be eligible for burial.
Cemetery is located in the northeast section of San Antonio. From International Airport, take NE Loop 410. Travel East to Harry Wurzbach Road and then south approximately four miles to the cemetery on your left.
Fax all discharge documentation to the National Cemetery Scheduling Office at 1-866-900-6417 and follow-up with a phone call to 1-800-535-1117.
For information on scheduled burials in our national cemeteries, please go to the Daily Burial Schedule.
Military Funeral Honors
The Fort Sam Houston National Cemetery Memorial Service Detachment (MSD) is available Monday through Friday to provide military funeral honors for veterans. MSD teams are volunteers. They complement the services provided by the Department of Defense. They ensure that all veterans are provided the rifle salute and taps. All military funeral honors performed by the MSD are provided at no cost to the family. Contact the cemetery office for scheduling information for the MSD.
For educational materials and additional information on this cemetery, please visit the Education section, located below.
The flower policy allows for fresh-cut and artificial flowers on graves year-round. No other items are allowed. All fresh cut and artificial flowers must be in plastic vases. No other containers are allowed. Plastic vases are provided by the cemetery and are in receptacles throughout the cemetery and should be returned to the receptacles when no longer needed.
To maintain the dignity of the national cemetery, no items will be attached or glued to a headstone, marker or niche cover.
All unauthorized tributes will be removed by cemetery personnel.
Please limit to two vases per gravesite. Arrangements should be no taller than the headstone.
Potted plants are only permitted on gravesites 10 days before and 10 days after Easter.
During the holiday season – December 1st through January 20th – wreaths and gravesite floral blankets no larger than 2 feet by 3 feet, may be placed on gravesites, along with fresh cut and artificial flowers, for the holiday season. Cemetery trees, shrubs and/or any other plants may not be decorated with any ornaments of any kind at ANY TIME.
Flower Pick-Up is conducted monthly. (See below for schedule). ALL ITEMS will be picked up and removed from gravesites during flower pickup. Persons who placed items on graves may recover those items from their loved one's gravesites PRIOR to the scheduled pick-up dates.
Flower pick-up dates are also posted on several "Next Flower Pick-Up" signs throughout the cemetery. There is no flower pickup in February.
2023 Flower Pick-Up Schedule:
January 24–26
February (None)
March 7–9
April 18–20
May 16–18
June 6–8
July 5–6
August 1–3
September 5–7
October 3–4
November 1–3 & 29–30
December 1
Headstones are Federal property. Altering or marking by paint, marker, lipstick or any other means is considered vandalism and may be subject to penalty as defined in Title 38 U.S. Code of Federal Regulations, Sec. 1.218 Security and law enforcement at VA facilities.
Fort Sam Houston National Cemetery assumes no responsibility for items left on gravesites. Due to the open nature of the grounds, we cannot guarantee against theft, vandalism or the effects of nature. Anyone caught removing items from gravesites not their own will be prosecuted to the fullest extent of the law.
Questions concerning cemetery floral policy should be directed to cemetery staff at (210) 820-3891.
VA regulations 38 CFR 1.218 prohibit the carrying of firearms (either openly or concealed), explosives or other dangerous or deadly weapons while on VA property, except for official purposes, such as military funeral honors.
Possession of firearms on any property under the charge and control of VA is prohibited. Offenders may be subject to a fine, removal from the premises, or arrest.
Fort Sam Houston National Cemetery adjoining the Fort Sam Houston Military Post in San Antonio, Texas, was one of seven national cemeteries established during the expansion of the National Cemetery System between the World Wars, specifically in 1934–1939. This first major expansion since the Civil War was due to an increased veteran population, combined with the rapidly depleting burial space at existing national cemeteries. Cemetery locations were chosen based on where veterans lived. The other interwar cemeteries are Baltimore, Maryland; Fort Bliss, Texas; Fort Snelling, Minnesota; Fort Rosecrans and Golden Gate, California; and Long Island, New York, national cemeteries.
San Antonio has held strategic military importance throughout its history. The first Spanish military camp was established there in 1718. In the early 1800s American settlers moved into the region in large numbers and tension with the new Mexican government led to the Texas Revolution (1835–1836). In this conflict, the Texas Army led by Sam Houston gained de facto independence from Mexico. The Alamo, a San Antonio mission, was the location of a pivotal battle in the revolution. The United States formally annexed the territory in 1846 and the Army established a quartermaster depot in San Antonio that supported American forces during the Mexican-American War (1846–1848). A permanent military post was established there in 1875 and it was named Fort Sam Houston in 1890. Prominent visitors to the post included Chief Geronimo, who was held there in 1886 before his exile to Florida, and Theodore Roosevelt who stopped with his men to receive provisions before leaving for Cuba in 1898. The fort also supplied General John J. Pershing's punitive expedition against "Pancho" Villa (1916–1917).
The fort at San Antonio utilized multiple burial grounds throughout its history. The first was the City Cemetery until 1867 when a small tract of donated land within the city became San Antonio National Cemetery—both were miles away from the post. The fort outgrew this national cemetery and, in 1924, the War Department set aside a portion of Fort Sam Houston for a supplementary post cemetery; the first interment occurred here in 1926. San Antonio National Cemetery reached capacity by the early 1930s and on August 6, 1931, the War Department transferred 60 acres, including the post cemetery, for use as a national cemetery annex. It retained the San Antonio National Cemetery Annex name until 1937 when it was renamed Fort Sam Houston National Cemetery.
Fort Sam Houston was the largest Army post in the United States in 1940 and during World War II it served as a major internment center for prisoners of war. As POW camps across the United States closed after the war, the Army consolidated graves from camp cemeteries and permanently interred remains at post or federal cemeteries. Axis prisoners were buried in the cemetery's southeast corner, the graves initially separated from those of veterans and eligible family members by a fence and plantings. However, ongoing grave-site expansion has merged POW and U.S. service burials.
Major construction projects were undertaken between November 1933 and June 1934 while the cemetery was still considered an annex. A lodge, restroom facilities, rostrum, and stone wall were built in part by civilian workers of the New Deal's Works Progress Administration. The buildings were in the Spanish Revival style. A utility building of the same style was added in 1938 as was a new flagpole with a Texas pink granite base. A stone wall and entry gate along the north cemetery boundary were built in summer 1941.
Similar to the consolidation of POW remains, the burials at one-time Texas frontier posts such as Fort Ringgold, Fort Clark, and Fort McIntosh were reinterred in Fort Sam Houston when those facilities closed in 1947.
Improvements and expansions continued throughout the twentieth century. Fort Sam Houston is one of 78 VA national cemeteries with burial sections that use upright headstones and flat grave markers. In 1941 the cemetery consisted of 25 developed acres; currently it contains roughly 338 acres of which 200 acres have been developed. Unlike some other inter-world war national cemeteries, Fort Sam Houston has the potential to remain open for decades.
Monuments and Memorials
Seven standard memorial monuments made of Texas pink granite are located along the Memorial Path that meanders around Section 9 in the east half of the cemetery. A memorial carillon was installed in 1982.
Medal of Honor Recipients
The Medal of Honor is the highest award for valor in action against an enemy force that can be bestowed upon an individual serving in the Armed Services of the United States. Recipients receive the Medal of Honor from the president on behalf of Congress. It was first awarded during the Civil War and eligibility criteria for the Medal of Honor have changed over time.
Recipients buried or memorialized here:
Staff Sergeant Lucian Adams (World War II). Lucian Adams, native of Texas, enlisted in the U.S. Army on February 25, 1943, during World War II. He served in Company I, 30th Infantry, 3rd Infantry Division until September 7, 1945. On October 28, 1944, near Saint Die, France, Staff Sergeant Adams was tasked with reopening supply lines. His lone assault on German forces led to the destruction of three enemy machineguns and reopened the supply lines to his isolated battalion. Adams received the Medal of Honor on March 29, 1945. Adams died March 31, 2003, and is buried in Site AI, Site 555.
Master Sergeant Roy Perez Benavidez (Vietnam). Roy Perez Benavidez, native of Texas, enlisted in the U.S. Army in 1955. Benavidez served with the Detachment B-56, 5th Special Forces Group, Airborne, 1st Special Forces during the Vietnam War. On May 2, 1968, Master Sergeant Benavidez volunteered to assist in the fourth effort to save a twelve-man reconnaissance team stranded west of Loc Ninh. Benavidez jumped from a hovering helicopter and despite his own wounds Benavidez recovered the wounded soldiers and classified documents. Benavides received the Medal of Honor on February 24, 1981. He died November 29, 1998, and is buried in Section AI, Site 553.
Colonel Cecil Hamilton Bolton (World War II). He received the Medal of Honor while serving in the U.S. Army, Company E, 413th and 104th Infantry, for actions at the Mark River, Holland, November 2, 1944. Bolton died in 1965 and is buried in Section PC, Site 22-J.
Staff Sergeant William J. Bordelon (World War II). He received the Medal of Honor posthumously for service in the U.S. Marine Corps, 1st Battalion, 18th Marines, 2nd Marine Division, in recognition of actions at Tarawa, Gilbert Islands, November 20, 1943. Bordelon is buried in Section AI, Site 558.
Specialist 4 Santiago J. Erevia (Vietnam). Santiago J. Erevia was born in Texas in 1946. He enlisted in the U.S. Army in 1968 and served for two years as a radio-telephone operator with the 101st Airborne Division in Vietnam. On May 21, 1969, he neutralized four enemy bunkers, saving lives of wounded U.S. soldiers and rescuing his company from a precarious position. He joined the Texas National Guard after his army tour. Although he received the Distinguished Service Cross, among other citations, he had been recommended for the Medal of Honor for bravery in 1969. In March 2014, President Barack Obama awarded Erevia and twenty-three other veterans the Medal of Honor— all men who had been overlooked due to cultural prejudice. Erevia died March 22, 2016, and is buried in Section AD, Site 486.
Platoon Sergeant William George Harrell (World War II). He received the Medal of Honor while serving in the U.S. Marine Corps, 1st Battalion, 28th Marines, 5th Marine Division, for actions at Iwo Jima, Volcano Islands, March 3, 1945. Harrell died in 1964 and is buried in Section W, Site 3247.
Second Lieutenant Lloyd H. Hughes (World War II). He received the Medal of Honor posthumously for service in the U.S. Army Air Corps, 564th Bomber Squadron, 389th Bomber Group, 9th Air Force, in recognition of his heroic decision to complete his mission regardless of the personal consequences during the Ploesti Raid, in Rumania, August 1, 1943. Hughes was killed when his plane crashed and he is buried in Section U, Site 53.
Boatswain Peter Johnson (Spanish-American War). He received the Medal of Honor while serving in the U.S. Navy for actions after an explosion of a boiler on board the U.S.S. Vixen on May 28, 1898. Johnson died in 1943 and is buried in Section F, Site 442.
Private First Class Milton A. Lee (Vietnam). He received the Medal of Honor posthumously for service in the U.S. Army, Company B, 2nd Battalion, 502nd Infantry, 1st Brigade, 101st Airborne Division, in recognition of actions near Phu Bai, Thua Thien Province, Republic of Vietnam, April 26, 1968. Lee was killed that day and is buried in Section X, Site 2475.
Master Sergeant Jose M. Lopez (World War II). Jose M. Lopez, native of Texas, enlisted in the U.S. Army in April 1942 during World War II. Lopez served in Company K, 23nd Infantry Regiment, 2nd Infantry Division. In Krinkelt, Belgium, on December 17, 1944, Master Sergeant Lopez single-handedly held off a German attack allowing his company to withdraw. Lopez received the Medal of Honor on June 18, 1945. As a Medal of Honor recipient, Lopez was removed from combat duty but continued work as a recruiter until retiring in 1973. At the time of his death on May 16, 2005, Lopez was the oldest-surviving Hispanic Medal of Honor recipient. He is buried in Section AI, Site 542.
First Lieutenant James E. Robinson, Jr. (World War II). He received the Medal of Honor posthumously for service in the U.S. Army, Battery A, 861st Field Artillery Battalion, 63rd Infantry Division, in recognition of intrepid leadership near Untergriesheim, Germany, April 6, 1945. Robinson died of wounds received that day and is buried in Section T, Site 98.
Chief Warrant Officer Louis Richard Rocco (Vietnam). Louis Rocco, native of New Mexico, enlisted in the U.S. Army in 1956. He served with Advisory Team 162 during the Vietnam War. On May 24, 1970, Rocco volunteered to accompany a medical evacuation team on a rescue mission northeast of Katum. Under fire, their helicopter crash landed. Ignoring his own injuries from the landing, Rocco extracted the survivors from the burning wreckage and sustained further injuries. He administered first aid until he lost consciousness, and received the Medal of Honor, in 1974, for his actions that day. Rocco retired from service in 1978 after twenty-two years, only to return when army medics were called back to active duty in 1990. Rocco died October 31, 2002, and is buried in Section AI, Site 549.
Master Sergeant Cleto Luna Rodriguez (World War II). Texan Cleto Luna Rodriguez enlisted in the U.S. Army on March 24, 1943. He served in Company B, 148th Infantry, 37th Division, during World War II. On February 9, 1945, Master Sergeant Rodriguez participated in the attack on the Paco Railroad Station in Manila, Philippine Islands. Rodriguez and a comrade worked to disorganize the defense, then he singlehandedly disabled a 20-mm gun. Rodriguez received the Medal of Honor for his actions. Rodriguez died December 7, 1990, and is buried in Section AI, Site 700.
Corporal Seth Lathrop Weld (Philippine Insurrection). He received the Medal of Honor while serving in the U.S. Army, Company L, 8th US Infantry, for actions at La Paz, Leyte, Philippine Islands, December 5, 1906. Weld died in 1958 and is buried in Section AH, Site 189.
Other Burials
Harry George Armstrong, native of South Dakota, enlisted in the U.S. Marine Corps in October 1918. Pvt. Armstrong served during World War I and left in March 1919 to attend medical school. He graduated from the University of Louisville in 1925 and joined the U.S. Army Medical Reserves. In 1931 he was attached to the Air Corps as a flight surgeon. He established the Aero-Medical Laboratory in 1935, where his aero-medical research improved flight conditions and pilot safety. His research is credited with saving the lives of more than 2,000 aviators. Armstrong was appointed Command Flight Surgeon of the 8th Air Force (1942), named Air Force Surgeon General (1949), and Surgeon General of the U.S. air forces in Europe (1954). He received the Distinguished Service Medal and Legion of Honor, among other commendations. Gen. Armstrong retired from service in 1957 and died in 1983 (Section 2, Site 419).
Lieutenant Colonel Richard Cole (WWII) was born in Dayton, Ohio, on September 7, 1915. He flew as the copilot to Lt. Col. Jimmy Doolittle during the "Doolittle Raid," a B-25 attack on Tokyo, Japan, on April 18, 1942, as retaliation for Pearl Harbor. Cole and the crew bailed out over China after the mission, where Cole stayed until 1943 flying supplies between China and Burma. After a brief assignment in Oklahoma, he returned to the China-India-Burma Theater as an Air Commando and served there until he returned to the U.S. in June 1944, finishing the war as a test pilot in Kansas. Following WWII, Cole had several staff assignments and served as advisor to the Venezuelan Air Force from 1959 to 1962. He retired from the military in 1966. He died on April 9, 2019 at age 103 as the last participant of the Doolittle Raid. The cremains of he and his wife were interred on what would have been his 106th birthday (Section 60, Site 762).
San Antonio native and talented pianist Thomas M. Ellis (1920–2018) attended Samuel Huston College in Austin before he was drafted during World War II. Staff Sergeant Ellis served in the Army Air Corps from 1942 to 1945, joining the Tuskegee Airmen in Alabama and overseas. Ellis was the chief clerk for the 99th Fighter Squadron in Alabama and the 332nd in Europe. While stationed in Italy he earned seven battle stars. Ellis returned to San Antonio after the war; he worked for the U.S. Postal Service until 1984, and played in a jazz quintet until 1994. Ellis overcame institutional racism and helped others navigate military segregation during the war; his exemplary service, and that of the Tuskegee Airmen, hastened integration of the armed forces. Ellis is buried in Fort Sam Houston National Cemetery (Section 124, Site 180).
North Carolinian James Johnson Kelly (1928–2018) was a legendary Tuskegee Airmen who served in the U.S. Air Force from 1946 to 1971. He registered for the draft while living in Lynchburg, Virginia. Kelly trained at the Medical Field Service School at Fort Sam Houston to become a surgical technician, then in 1948, a flight surgeon assistant. Technical Sergeant Kelly served at Lockbourne Army Air Field in Ohio; in 1955 he was commissioned as an officer and completed flight training here. His role as squadron commander was highlighted in Ebony magazine in 1969 and he retired with the rank of major. As a civilian Kelly earned undergraduate and graduate degrees from Our Lady of the Lake University in San Antonio and raised his family in the city. He is buried in Fort Sam Houston National Cemetery (Section 115, Site 374).
Twenty-seven Buffalo Soldiers from the 9th and 10th Cavalry who served during the Indian Wars are interred in Section PE. Their remains were initially buried in the frontier forts where they were assigned, such as Fort Clark, Fort McIntosh, and Fort Ringgold. As these frontier posts were closed, the remains were disinterred and brought to Fort Sam Houston National Cemetery.
Captain William Randolph, for whom Randolph Air Force Base was named. He died in a plane crash in 1928. (Section Q, Site 133)
Raymond Hatfield Gardner, better known as "Arizona Bill," enlisted in the U.S. Army on August 16, 1888. He served as a scout during the Indian Wars. Originally from Logansport, Louisiana, Gardner claimed the Comanche kidnapped him when he was a child and later traded him to members of the Sioux Nation. Gardner's adventures continued with the Pony Express and Buffalo Bill Cody's Wild West Show before his death in 1940. Surrounded by more lore than fact, Gardner's military service records were belatedly discovered and his remains were reinterred in Sam Houston National Cemetery on Veterans Day 1976 (Section AC, Site 287-B).
Frank Mariano Tejeda, Jr. dropped out of high school in Texas and enlisted in the U.S. Marine Corps in 1963. He served during the Vietnam War when he was awarded the Bronze Star and Purple Heart. After leaving the Marines in 1967, Tejeda received his law degree from the University of California at Berkeley. Tejeda served the public in the Texas House of Representatives (1977–1987), Texas State Senate (1987–1992) and as a U.S. Congressman (1993–1997). Tejeda died January 30, 1997. He was posthumously awarded the Silver Star (Section AI, Site 554).
Leon Van Autreve was the fourth Sergeant Major of the Army (SMA) and the highest ranking enlisted man. Van Autreve first joined the Army in 1941 and served overseas during World War II. After a break in service from 1949-50, he rejoined the Army serving with the 54th Engineer Battalion in Germany. Over the next 23 years, Van Autreve would serve in positions across the United States from Virginia to Alaska, in addition to assignments in Korea, Indonesia and Vietnam. He was selected as the fourth Sergeant Major of the Army (a position created in 1966) in July 1973, a position he filled until June 1975. As the SMA, he sought to increase the standards of the Army's noncommissioned officer corps and oversaw the development of the Noncommissioned Officer Education System. (Section AI, Site 546)
Richard Edward Cavazos was born in Kingsville, Texas, in 1929, and grew up on the King Ranch where his father, World War I veteran Lauro, was the cattle foreman. Cavazos graduated from Texas Tech University in 1951, and as part of the ROTC program, also received his army commission. During the Korean War, 1st Lieutenant Cavazos served with the 65th Infantry Regiment (Borinqueneers) and for his actions in battle received the Distinguished Service Cross and Silver Star. In Vietnam, Cavazos commanded the 1st Battalion, 18th Infantry, and received a second Distinguished Service Cross, among other medals, for his bravery. Cavazos became the first U.S. Army general of Hispanic heritage in 1976 and went on to command the III Corps based at Fort Hood. General Cavazos retired in 1984. He died October 29, 2017, and is buried in Fort Sam Houston National Cemetery (Section PG, Site 51).
World War II prisoners who died in captivity at Fort Sam Houston and at seven other camps that operated in Arkansas, Louisiana, Oklahoma, and Texas were buried in the cemetery's southeast corner. Treatment of POWs is determined by the laws of war (today set out in the various Hague Conventions from 1899 and 1907, Geneva Conventions of 1949, Additional Protocols of 1977, and customary international law). The graves of 140 Axis prisoners – 133 Germans, 4 Italians, and 3 Japanese – are marked with an upright General-style headstone. In December 2020, NCA replaced two historic government-issued headstones marking the graves of Georg Forst and Alfred P. Kafka, who had died and were initially buried at Camp Bowie, TX. Their headstones had been subsequently inscribed with German text, an Iron Cross, and a swastika. Fort Sam Houston is one of 23 NCA cemeteries containing the graves of more than a thousand world war enemy POWs.
We are developing educational content for this national cemetery, and will post new materials as they become available. Visit the Veterans Legacy Program and NCA History Program for additional information. Thank you for your interest.
return to top